Rare photos of Lenin to go on display in Oxford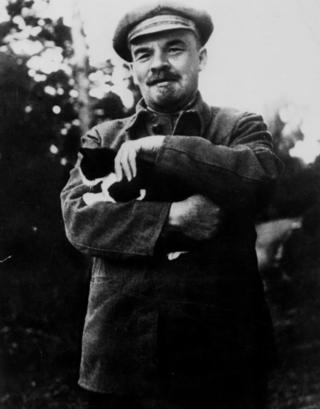 A series of rare photographs of the Russian revolutionary leader Vladimir Lenin are to go on display in Oxford.
They include an image of Lenin in a wig and make-up, which was used for an illegal ID card when he was in hiding.
Another shows the Bolshevik leader with a cat at his home in Gorki, Moscow.
They were released by the Society for Co-operation in Russian and Soviet Studies especially for the new exhibition at The North Wall Arts Centre in Oxford.
The society was founded by a group of British and Soviet artists and intellectuals, including John Maynard Keynes, Virginia Woolf and Alexei Tolstoy in 1924.
It aims to promote knowledge of Russia and the former Soviet Union and is supporting the free exhibition in north Oxford, which is being held to coincide with the 100th anniversary of the Russian Revolution in 1917.
The North Wall Arts Centre said the exhibition, which runs from Wednesday 8 to 18 November, would feature items never before seen in public
It will aim to examine the ways Lenin promoted his image, as well as his communist beliefs, and his international standing.