Why do the Chinese love Bicester Village?
By Marcus Liddell
BBC News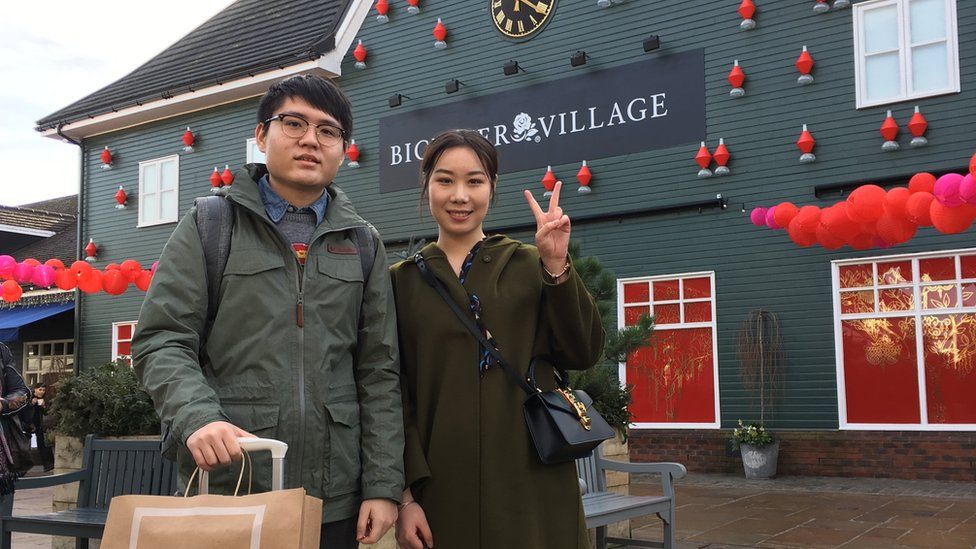 It's claimed only Buckingham Palace receives more visits from Chinese citizens, whose pilgrimage to a designer outlet in Oxfordshire requires announcements in Mandarin at its railway station. But is there more to Bicester Village for these tourists than the appeal of cut-price handbags?
With so many other sights to see in Britain, the fascination with a man-made, manicured shopping centre on the outskirts of Bicester is somewhat baffling to those closer to home.
But for Chinese visitors to the UK - more than half of whom shop at Bicester Village, according to the outlet - a walk through its Scandi-inspired high streets is an unmissable part of the trip.
Tracey Xiau, a student at Birmingham University, has stopped off on her way to London.
It's her second visit to the site, which has savings on high-end brands such as Burberry, Gucci and Armani.
Through the help of a translator, she explains "it is very famous for Chinese people" - especially with Chinese women who like shopping.
"The discounts are very nice and the product has a good brand, that's why I come here," she adds.
The appeal is obvious to a large extent.
"We can buy discounted items... [it is] cheaper than high street stores," say Mo Zhou and Leon Yue, a well-dressed couple from Beijing who have already snapped up a pair of designer sunglasses.
For Yining Lu and Huang Xin, they want to take advantage of being able to claim back the 20% VAT available to non-EU visitors.
"The tax is higher in China so we need to buy it in Bicester," says Ms Lu, who has been planning her trip for two months.
Mr Xin wants to "buy, buy, buy, buy".
Asked whether it was cheaper than in China, she replies: "Yes, of course. I want to get tax free."
Chinese citizens have only recently become regular travellers to the UK and since the mid-2000s, Bicester has taken advantage, working with Chinese tour operators.
Today, it is the only outlet in the UK visited en masse by Chinese tourists and it scores highly in almost all of the country's online tourist forums, where it is described as a "must-go place for visitors to London".
You might also be interested in:
The Village also features on social media channels such as Weibo and WeChat, where posts and comments - mostly of shoppers showing off their purchases - are shared every day.
Owner Value Retail is surely reaping the benefits of its marketing plan, though it declined to comment.
But more so perhaps because it capitalised on being in the "right place at the right time" with the "right product for the right people", says Kegang Wu, a former adviser on China to the British Chamber of Commerce.
"Chinese tourists are relatively new, with their new-found money and new-found wealth," he says.
"The gift-giving culture of the Chinese tradition also means if they buy something they buy expensive stuff, differently to UK tourists who go abroad for a good time."
He says the Chinese traditionally like to buy presents or gifts for friends or relatives.
And, he adds, they also like a good deal.
"They're good businesspeople, they like a discount."
Leon Yue, from Beijing, speaks no English and was surprised to find Chinese-speaking staff at the site.
She tells the translator she is buying presents for her mum after hearing about the outlet through "word of mouth".
"When they come here they find it very surprising to see lots of Chinese sales staff in the shops and they have received lots of welcoming, nice words from the staff, so they feel very special experience from coming today," the translator explains on her behalf.
"The Chinese staff make the shopping experience more convenient."
But the outlet has challenges ahead if it is to sustain its success, says Dr Wolfgang Georg Arlt, from the China Outbound Tourism Research Institute.
He says travel trends, particularly around shopping, are changing as more of the country's citizens start going abroad and it becomes less of a novelty.
There is no need to buy for five others, he says, if they are travelling soon as well.
"If everybody has a Gucci bag, and you tell them 'Oh, I bought a new Gucci bag'... they're not so impressed."
He believes to continue attracting the wealthiest Chinese tourists, the outlet must keep evolving to offer more of "an experience".
"These kinds of people will still come to Bicester," he said. "But you will have to give them a story to tell to their friends, that they didn't just go for discounts."
Additional reporting by BBC Chinese.
Related Internet Links
The BBC is not responsible for the content of external sites.