Aung San Suu Kyi stripped of Freedom of Oxford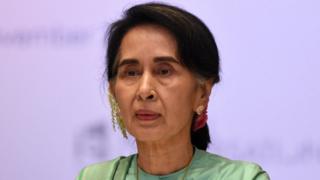 Aung San Suu Kyi has been formally stripped of an honour granting her the Freedom of Oxford because of her response to the Rohingya crisis.
The de facto leader of Myanmar was granted the freedom of the city in 1997 for her "long struggle for democracy".
But Oxford city councillors said they did not want to honour "those who turn a blind eye to violence".
More than half a million Rohingya Muslims have fled Myanmar to Bangladesh following recent violence.
Ms Suu Kyi spent years under house arrest in Rangoon as a campaigner for democracy while Myanmar (formerly Burma) was ruled by a military dictatorship.
'Humane city'
But her failure to denounce the military or address allegations of ethnic cleansing has been criticised by world leaders and groups such as Amnesty International.
Oxford City Council voted to permanently remove her honour at a meeting earlier, after a preliminary vote in October.
Mary Clarkson, who proposed the motion, said: "Oxford has a long tradition of being a diverse and humane city, and our reputation is tarnished by honouring those who turn a blind eye to violence.
"We hope that today we have added our small voice to others calling for human rights and justice for the Rohingya people."
St Hugh's College, Oxford, where Ms Suu Kyi studied, has removed her portrait from display.
Aung San Suu Kyi and Oxford
Ms Suu Kyi read philosophy, politics and economics at St Hugh's College, Oxford from 1964 to 1967
In 1972 she married Michael Aris, a senior research fellow in Tibetan and Himalayan studies at St Antony's College
They lived together in the city with their two sons Kim and Alexander
She was awarded the Freedom of Oxford in 1997
She received an honorary degree from the University of Oxford in 2012