Five things in Oxfordshire
Here are five stories from Oxfordshire which people have been clicking on this week.
1) Medieval road discovered under field
A medieval stone causeway has been discovered underneath a field on the outskirts of Oxford.
It was revealed during excavations ahead of a £120m scheme to reduce the risk of flooding in the city.
The causeway, near Willow Walk, is made of rounded river pebbles, limestone and chalk rocks.
Horseshoes were found among the cobbles and will be analysed by X-ray to determine their age.
2) Praise for taxi driver who 'saved girl from paedophile'
A man who foiled a paedophile's bid to abduct a girl hopes the case will raise awareness of online grooming.
Taxi driver Satbir Arora raised the alarm after he drove the teenager alone to a railway station.
Mr Arora, of Bicester, has now won an award from his employer, Cherwell District Council.
3) Oxford soup kitchen's Christmas meal at risk after fire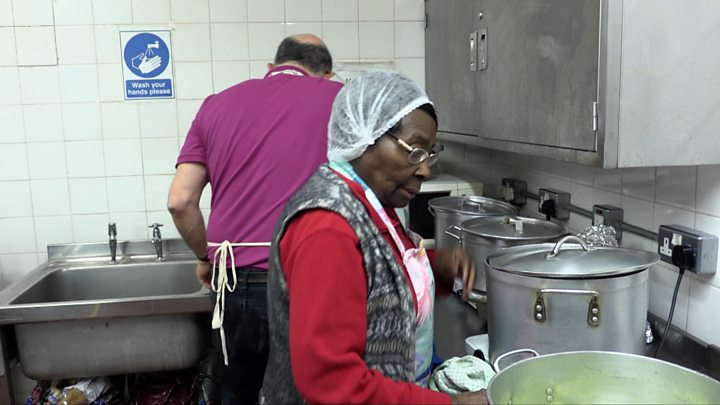 A soup kitchen in east Oxford is appealing for help after a fire destroyed its oven earlier this month.
The Oxford Community Soup Kitchen is run by Icolyn Smith MBE and helps homeless people in the city.
Mrs Smith's son, Gary Smith, said the meal was a "big deal" for homeless people in Oxford and they are looking for a new oven or a portable kitchen they can borrow.
4) Oxford displays new diverse portraits
Portraits to celebrate the diversity of ex-students and staff at the University of Oxford have gone on display.
They are part of the Diversifying Portraiture project which aims to broaden the range of people shown on the university's walls.
The university has been criticised for a lack of social and racial diversity among its students and academics.
5) Tax bill 'could bankrupt' housing co-op
Tenants who formed a housing co-operative to buy a home in Oxford say it is facing bankruptcy because of a £48,500 stamp duty bill.
The group bought the semi-detached house in Church Hill Road, Rose Hill, because its six members were "fed up" with rising rents and unaffordable housing.
But they have now been told an extra £48,500 in stamp duty is due as the government classed it as a "collective investment scheme".