River weed could 'mess up' Henley Royal Regatta, says MP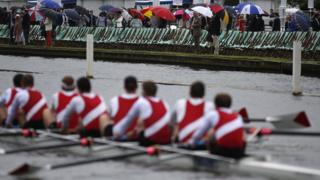 An invasive river plant could affect the Henley Royal Regatta unless it is tackled, the town's MP has warned.
Conservative MP John Howell said Floating Pennywort was "very close" to the regatta site and could "completely mess up" the event if it reached it.
The non-native plant can grow at up to 20cm (8in) per day and its sale was banned in 2013.
The Environment Agency said 50 tonnes was removed from the River Thames in October and November.
A further programme of removal, spraying and monitoring is planned from Spring 2018.
Floating Pennywort is viewed as a threat to fish due to the impact it has on the amount of oxygen in the water. It also crowds out native plants because of its fast growth rate.
Professor Alastair Driver, a river management specialist, said it would be "too late" if the work on the River Thames was left until the spring, as its spread was at a "tipping point".
The annual Henley Royal Regatta will take place in July 2018 and uses a straight section of the river where it is 80ft (24m) wide.
"It is getting very close to the regatta site and I want to stop it from getting to the regatta site," Mr Howell said.
He has called for a parliamentary debate about the plant's spread.