Patients advised to allow two hours to reach hospital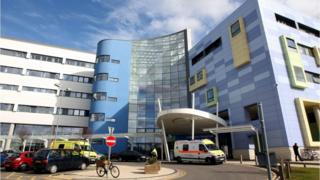 Patients have been advised to allow up to an extra hour to reach a hospital by car next month, on top of an hour-long wait to park.
Oxford University Hospitals NHS Foundation Trust (OUH) said access to the John Radcliffe Hospital will be "severely affected" by roadworks in Headington, Oxford.
It already advises patients to allow an hour to park, owing to limited spaces.
Its website said an extra 45-60 minutes should also be left for the roadworks.
The work, between 16 January and early March 2018, will take place in Headley Way which is the only route into the John Radcliffe Hospital, the largest hospital in Oxfordshire.
Oxfordshire County Council said the majority of the work will be done using narrow lanes and was part of a £12.5m project to improve roads called Access to Headington.
It said the works had been designed to minimise the impact on traffic but added all road users "will need to allow additional time".
David Bailey, a nurse at the John Radcliffe Hospital, said staff were concerned as the increased journey times were going to leave them with less time between shifts.
OUH's website already requests that patients do not drive to appointments unless they have "no other option" as parking spaces are "very limited".
In March, the trust's chief executive Dr Bruno Holtof said parking was organised "very inefficiently" at its sites and announced plans for five new multi-story car parks.