Oxford Brookes University criticised for '#SnowDay'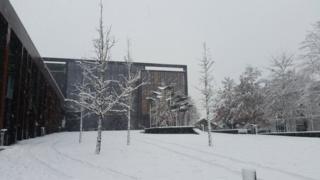 A university which closed all its buildings due to "heavy snow" has been criticised on social media by students.
Oxford Brookes used the hashtag #SnowDay to accompany a tweet that said it would be shut on Sunday and Monday.
In response one student said: "I don't think #SNOWDAY is an appropriate hashtag... we deserve to know why we have no access to our library."
Defending the closure, the university said icy conditions were expected to cause difficulties as more snow fell.
The closure comes as many students at Oxford Brookes work towards exams or assignments in the final week of term.
@Char_W97 said on Twitter: "It's not #snowday...It's the most important week of term, and we need the facilities we pay for."
Robin Urquhart agreed: "Students stressed out with exams, paying almost £10k and the Uni won't provide funding to their Estates Department to make safe passage around the campus."
@WestRidingMatt said the University of St Andrews, in Scotland, keeps its library open when it snows, before adding: "But what do you expect from the South."
Thames Valley Police advised people not to travel unless it was unavoidable on Sunday and Monday morning, and there was some sympathy for the university's decision on social media.
Hazel Rothera said most staff live miles outside Oxford and would not be able to get in to open buildings.
Charlotte Blackman tweeted : "It's genuinely not safe for some to travel. How can't people understand that? #safetyfirst".
"Also, has nobody heard of GoogleBooks," she added.
Oxford Brookes said students would be contacted by email on rescheduling missed or cancelled examinations and relevant mitigating circumstances.