Oxford park and ride can expand on to green belt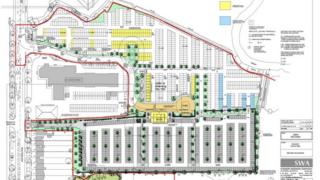 Plans to use green belt land to expand a Park in Ride car park in Oxford can go ahead, despite flooding concerns.
The development will take the total number of spaces at Seacourt Park and Ride from 786 to 1,452 spaces.
The Oxford Flood Alliance and conservation groups had objected to the application from Oxford City Council.
But an Oxford City Council planning committee supported the development after a report by planning officers recommended its approval.
The expansion would build on part of Oxford's flood plain, which is also registered as part of Oxford's green belt.
The Oxford Flood Alliance called for it to be rejected and argued Oxford City Council had not demonstrated flood flows would not be interfered with.
But a report by council officers said the Environment Agency had accepted the development would not increase the risk of flooding elsewhere.
It also said a plan had been developed to "eliminate the chance of vehicles being caught in floods".
The Campaign to Protect Rural England Oxfordshire was one of the groups to object to green belt land being built on.
It said it was not possible to justify the creation of a car park on "open countryside".
The report said the loss of green belt was "considered carefully" by officers who decided the "public benefits" would "outweigh the harm".
It also found there were no alternative sites, outside of the green belt, which were suitable.
Oxford City Council said it deliberated the matter at the meeting "for more than two hours".
It added: "The committee heard from the planning officers that whilst this was a contentious proposal and contrary to some aspects of planning policy there were very special circumstances that meant that the application could be approved on its merits.
"They also heard from opponents of the scheme who challenged whether it should be located elsewhere or if it was needed at all.
"The application was approved on the casting vote of the chair of the committee."