Fishery faces action over 'no Polish' sign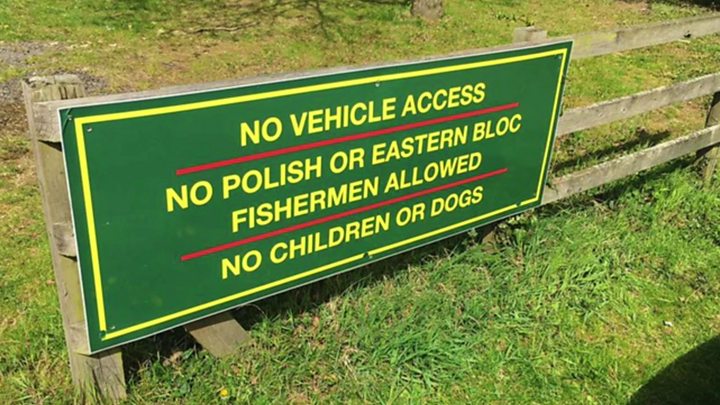 A fishery which has a sign banning Polish and "Eastern bloc" anglers is facing possible legal action.
The owner of Field Farm Fisheries in Oxfordshire said he had caught some anglers stealing fish.
Polish fisherman Rado Papiewski has crowdfunded £5,000 to pay for a private prosecution and have the sign removed.
The Equality and Human Rights Commission (EHRC) said the sign was unlawful and it would take "enforcement action" if necessary.
Mr Papiewski, from Doncaster, South Yorkshire, runs a project called Building Bridges, for the Angling Trust, which aims to "educate and integrate" anglers from other countries.
The project website explains that anglers from countries such as Poland have traditionally caught fish "for the pot", whereas in Britain anglers generally return fish to the water.
Mr Papiewski said he was shocked when he saw the sign in Launton, near Bicester.
He believes it is in breach of the Equality Act 2010.
"It discriminates against a group of people. It could be any nationality on this sign.
"It's [before] my time but… people are commenting that this is like going back to the 1960s," he said.
He wants the sign removed quickly so other people are not encouraged to follow suit.
Mr Papiewski said he approached the police, but they said it was not a criminal matter. Thames Valley Police confirmed the investigation was passed to the EHRC.
An EHRC spokeswoman described the sign as discriminatory and unlawful, and said it would be writing to the fishery to advise it to take it down.
"It's right to challenge such out of date practices and any business that believes this is acceptable should think again before they find themselves facing legal action," she said.
Fishery owner Billy Evans defended the sign.
The former Conservative councillor, has had similar signs on his land since 2009.
He said: "I shall still stand up for what I believe in.
"If they want to call me a racist for stopping thieves from coming on my private property that's what they'll do.
"I know I'm right and I'm doing the right thing."