Banbury Castle Quay 2 leisure scheme bought by council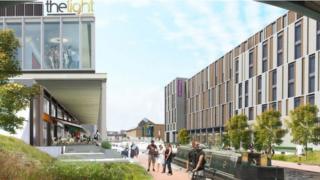 A council is to intervene to save plans for a multi-million pound leisure complex in Banbury after an investor pulled out.
Cherwell District Council has agreed to buy Castle Quay shopping centre and build the complex next door.
The project called Castle Quay 2 was being brought forward by Aberdeen Standard Investments, Castle Quay's owner, until the plan was dropped.
The council said the price it will pay for Castle Quay was confidential.
The plan for Castle Quay 2, including a multi-screen cinema, supermarket, restaurants and hotel, already has planning consent and is expected to cost about £60m to build.
Work is expected to start this summer and Cherwell District Council said it will not use taxpayer's money to fund the project.
Instead it plans to borrow the money and pay it back using rents generated from the two sites.
The authority's Lead Member for Finance Tony Illott previously said the project would "just die" if the authority did not step in.
He said the council could now "guarantee that these plans come to fruition".
German supermarket Lidl and hotel chain Premier Inn have already committed to Castle Quay 2 and are due to open in 2020, the council said.
Cherwell District Council already owned 15% of Castle Quay before the decision to intervene and will be the sole owner once it exchanges contracts.