Thousands petition junior dictionary over nature words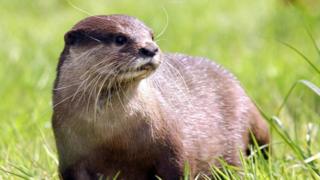 More than 50,000 people have signed a petition calling for the Oxford Junior Dictionary to reinstate words related to the natural world.
It follows their removal in 2007, a step that prompted criticism from several authors, including Margaret Atwood in 2015.
The new petition argues restoring them would be a "cultural signal".
Publisher Oxford University Press (OUP) said it still includes about "400 words focusing on the natural world".
The petition - which was set up by Terry Jackson and has been signed by more than 53,000 people - said words like acorn, bluebell, cygnet, heron, and pasture have been absent from the publication for a decade.
It said it was an "alarming" step to take when species are facing extinction and "more and more children" are suffering from obesity.
OUP said the range of children's dictionaries had increased from two to 17 in the last 40 years, and so the total number of words, including those about nature had "increased across the range".
It added, all the nature words mentioned in the petition appeared in the Oxford Primary Dictionary.
But Mr Jackson's petition also questioned the choice of replacement words, suggesting the word blog was easier to "spell and discover the meaning of than say hedgehog or cygnet".
The OED said it analysed language children are using when developing the dictionary, while reflecting the words children are encouraged to use in the classroom.
This ensures the dictionary remains "relevant and beneficial", it said.
The petition said it would be sent to OUP and Environment Secretary Michael Gove MP.