Horton maternity unit judicial review defeated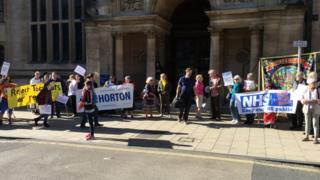 A judicial review brought by a council after maternity services at an NHS hospital were downgraded has been dismissed.
The unit at Horton General Hospital in Banbury was changed to a mid-wife led unit in August by Oxfordshire Clinical Commissioning Group (OCCG).
Cherwell District Council objected to the consultation process which it called "flawed and confusing".
But its legal challenge was defeated after a two day High Court hearing.
Council leader Barry Wood said he was "bitterly disappointed".
He said the authority - whose case had been backed by Northamptonshire Council, Stratford-on-Avon District Council, and Banbury Town Council - would now focuson a bid to have the health secretary review the decision.
The consultation process was referred to Jeremy Hunt by an Oxfordshire County Council committee in August, and he could still ask a specialist panel to examine it.
OCCG's chief executive David Smith said he believed the consultation was "robust and well conducted" and was pleased the judge ruled in its favour.
But he acknowledged campaigners and district councils had been unhappy and said the organisation would "take away lessons" from the experience.