M40 crash: Tributes to Oxford historian Mark Whittow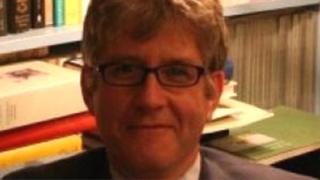 An Oxford University professor who died in a five-vehicle crash has been described as a "warm and loyal friend".
Mark Whittow, 60, was a Medieval historian and archaeologist and had been named as the next provost, or head, of Oriel College.
A 29-year-old man from Warwickshire also died in the crash on the M40 near Banbury on Saturday.
The Bodleian History Faculty Library said he was a "warm, witty, humane scholar".
Dr Whittow, from Oxfordshire, was a lecturer in Byzantine Studies, and a fellow of Corpus Christi College, Oxford.
He was senior proctor of the university in 2016-17, and lectured in history at Oriel College.
Prof Martin Conway, chairman of Oxford University's History Faculty, said: "The entire Oxford community has been left deeply saddened by Mark's tragic death.
"Mark was an enormous influence on history in Oxford, where his energy and commitment to teaching, research and to the sense of an intellectual community was irrepressible.
Peter Frankopan, Professor of Global History at Oxford, wrote on Twitter: "Heart-breaking news about my best, loveliest & most brilliant friend & colleague who has died over Christmas."
One vehicle is thought to have overturned in the crash, which happened between junctions 10 and 11, near Banbury, late on Saturday evening.
The M40 was shut in both directions overnight for about three hours.
Another man was taken to hospital with serious leg injuries, and three people were treated for minor injuries.