New GWR trains enter service after electrification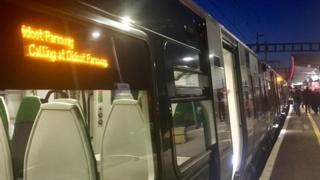 New trains have entered service between London and the Thames Valley following electrification work.
Great Western Railway's (GWR) electric Electrostar trains are operating from Didcot Parkway, Oxfordshire, and Reading, Berkshire, for the first time.
More seats will be available on the new trains, which are longer than the diesel ones used previously,
Their introduction comes after Network Rail finished electrifying the line from Maidenhead to Didcot.
GWR said "the majority" of the 25-year-old fleet of diesel trains operating in the region would be replaced by 45 Electrostar trains.
They begin service as a rail fare rise takes effect, which has seen average prices increase by 3.4% across the UK.
Dan Panes, from GWR, said the increased ticket prices had helped pay for the "thousands and thousands of additional seats on brand new trains".
New intercity express trains also entered service between Great Malvern, Worcester, Oxford and London for the first time earlier.
They are already used between South Wales, Bristol and London, and GWR has increased the number operating on these routes as well.
The work to electrify the line between Maidenhead and Didcot Parkway was part of a wider plan to modernise the Great Western Mainline.
It was set to include the main line to Oxford, Bath and Bristol but some parts were "deferred" in 2016 following rising costs.