Children 'ate discarded food' at Oxfordshire nursery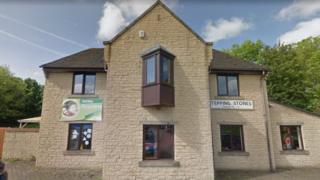 Children ate discarded food and dried pasta at a nursery because they were not supervised properly, a watchdog has said.
Ofsted inspectors also saw youngsters running with scissors "in an unsafe matter" during a visit to Stepping Stones Nursery in Witney, Oxfordshire.
The regulator rated the nursery, which has 75 places, inadequate after an inspection in December.
Nursery owner Jane Kelly said the next inspection would show improvement.
In its report Ofsted said: "Due to staff shortages children were left to wander on their own and some were observed eating dried pasta, unnoticed by staff.
"Staff do not guarantee children's well-being due to the weaknesses in ratios and staff deployment.
"For example, younger children were observed eating half-eaten and discarded food, as they were unsupervised by staff."
Ofsted said the nursery employs 16 staff, of which 11 have relevant childcare qualifications.
It added that one strength of the nursery was that staff knew what to do if they are worried about a child's welfare or the behaviour of another adult.
Ms Kelly declined to comment on the inspection in detail but said their next Ofsted inspection would show a great improvement.