Oxford City Council in row over homeless man's bedding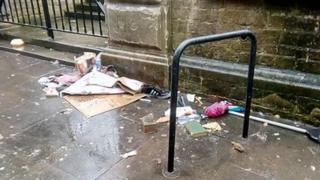 A council has been accused of "unforgivable" behaviour after it removed a rough sleeper's bedding and sleeping bag in Oxford.
Green councillor David Thomas said the man was left in a "dire" situation with no way of staying dry in wet weather.
Labour-run Oxford City Council said the man told its street cleaning team he was happy for the items to be removed.
It said some soaked cardboard and bedding was taken away from outside a building in George Street on Tuesday.
But Jan Bailey, who volunteers helping the homeless, said the man was distraught about losing his belongings.
She said: "I was absolutely horrified. It may not have been much that this gentleman had, but it was all he had. To me it is unforgivable."
Ms Bailey added that his belongings, including books she gave him for Christmas, were left scattered on the street in the wet, a claim also denied by the council.
'Very difficult'
Mr Thomas, leader of Oxford's Green Party, said he was also told by the rough sleeper he had not wanted his belongings removed.
The council said: "The treatment of discarded items such as this is very difficult and we talk to individual rough sleepers directly - which happened in this case."
The authority said some items of personal value were left in a small, neat pile that did not obstruct the pavement.
The council and the city's Green Party have clashed over homelessness several times in recent months.
Last July, Mr Thomas accused the authority of trying to "intimidate" homeless people by attaching notices to their bags warning of potential fines.
That policy is now being reviewed after more than 5,000 people signed a petition opposing it.