Oxford to host British Quidditch Cup for second time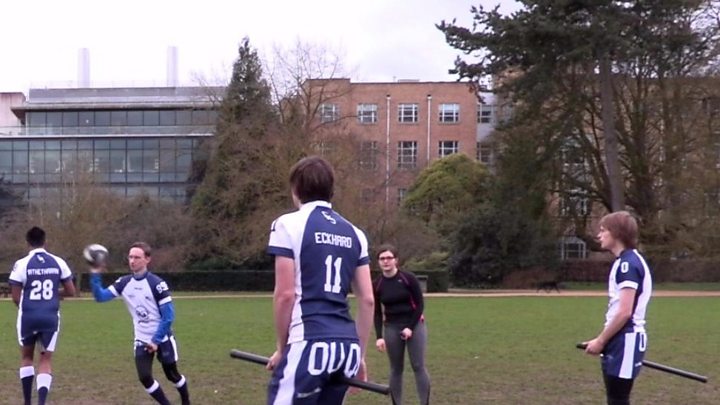 The country's finest seekers, chasers and beaters will be coming to Oxford after the city was chosen to hold the British Quidditch Cup.
Each player must hold a broom between their legs while competing in the Harry Potter-inspired sport, which also draws on rugby and dodgeball.
More than 800 people play it and participation is growing, according to organiser Quidditch UK.
A total of 32 teams will compete at the national competition.
It will be the second time the event has been held in Oxford, which hosted the inaugural British Quidditch Cup in 2013.
Quidditch UK selected it ahead of bids from Bath, Liverpool and Rugeley Leisure Centre in Staffordshire, the host of last year's competition.
Fans may consider it an appropriate choice given the city's links with Harry Potter, which include several locations where scenes from the films were shot.
The competition will take place at Brookes Sport on 24 and 25 March.
---
How do you play Quidditch?
A match has two teams of seven players aiming to score as many points as they can.
Each player must play with a broom between their legs
A team consists of one keeper, three chasers, two beaters, and a seeker.
Points are available for throwing 'the quaffle' through the opposing team's hoops and for catching the snitch, which ends the game.
Source: Quidditch UK
---