Oxfordshire health and care services 'must work together better'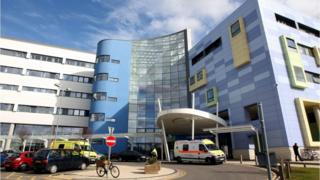 Recruitment problems and a "blame culture" are having a negative effect on Oxfordshire's health and care services, a watchdog has said.
In a county-wide report, the Care Quality Commission (CQC) said hospitals, GPs and care services need to improve how they work together.
Some patients reported "very poor experiences" like being discharged from hospital in the early hours, it noted.
Relationships between organisations had been "difficult" for years, it added.
But the report did outline how staff are dedicated and "go the extra mile" for patients.
Appointment delays
Health and care bosses say they have now met to discuss the report and developed an action plan to address the concerns.
The report also stressed that across all areas of health and social care in the county an above average proportion of services are rated good or outstanding.
But, some patients told the CQC they had been sent home from hospital between 02:00 and 03:00 GMT.
One said they only found out when they arrived home that no care package was in place there was no-one to provide the support they needed.
Others reported having to wait for appointments for up to two weeks, resulting in them relying on emergency departments.
'Wake-up call'
The report looked at the county council, Oxford Health NHS Foundation Trust, Oxfordshire Clinical Commissioning Group, Oxford University Hospitals NHS Foundation Trust, and South Central Ambulance Service.
The CQC said relationships between them had improved, but a "blame culture" had been reported in some organisations, and there had previously been "mistrust" among their leaders.
Prof George Smith, of Healthwatch Oxfordshire, said the report was a "wake-up call".
He said: "The recurring themes of this report are lack of strategic planning, lack of collaboration between agencies, and lack of a unified approach."