JRR Tolkien Middle-earth lovers feature in new exhibition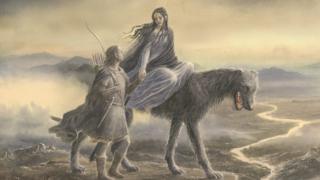 Rare material relating to the story of a pair of star-crossed lovers that feature in the works of JRR Tolkien are to go on show in Oxford.
Tolkien: Maker of Middle-earth will display manuscripts from the story of Beren and Lúthien.
The exhibition at the Bodleian Libraries' Weston Library will include heraldry and maps illustrated by Tolkien.
The library described it as an "unprecedented selection of materials".
Archivist Catherine McIlwaine said: "The aim of this exhibition is to take visitors beyond what they may already know about the work of this extraordinary author - his talent as an artist, linguist and creator of the many different characters who lived in Middle-earth.
"The story of Beren and Lúthien resonates with us today more than ever because it speaks of the possibility that love can transcend the differences that sometimes separate us."
Beren and Lúthien were a mortal man and an immortal elf who together tried to steal from the greatest of all evil beings, Melkor.
Described as a "very personal story" that the Oxford professor thought up after returning from the Battle of the Somme, they appeared briefly in the posthumously published novel The Silmarillion, and in their own book last year.
The names Beren and Lúthien are carved on the gravestone Tolkien and his wife share in Wolvercote cemetery in Oxford.
The exhibition includes examples of heraldry for both characters, and a page from the Quenta Silmarillion, a collection of stories that introduced their tale.
Also displayed for the first time is the second Silmarillion map, said to date to before the end of the First Age of Middle-earth.
The exhibition runs from 1 June to 28 October.