Unis up support for scheme to increase black applicants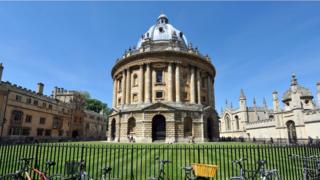 A programme to help more black students win places at Oxford and Cambridge is to almost treble in size.
Both universities have upped funding for Target Oxbridge, which supports students with university visits, mentoring, and admissions advice.
It follows public criticism of both Oxford and Cambridge over the low number of offers made to working class and black applicants in recent years.
Target Oxbridge said the backing meant 160 funded places can run next year.
Oxford offered places to about 16% of applicants who defined their ethnicity as black in 2016, and at Cambridge the rate was about 18%.
In both cases the percentage of white applicants receiving offers was about 10% higher.
Such statistics, as well as concerns about the number disadvantaged white pupils getting offers, have prompted accusations that Oxford and Cambridge are not doing enough to broaden access.
Support for Target Oxbridge, which is run by Rare Recruitment, is one way both universities have tried to address the criticism.
The year-long programme involves visits to each university along with an Easter residential course, and 35 out of the 86 students currently enrolled have received offers from Oxford and Cambridge.
For some students it was just about "understanding the process" while others needed support preparing for interviews, said programme founder Naomi Kellman.
She added that the extra backing from both universities came after "unprecedented demand" for positions on this year's programme.
Director of Undergraduate Admissions and Outreach at Oxford University, Dr Samina Khan, said Target Oxbridge had proved "highly effective in demystifying life at Oxford" and encouraging black students to apply.
Director of the Cambridge Admissions Office, Jon Beard, also welcomed its expansion and said it was seeing more interest from students from black or minority backgrounds.