'No promises' for Thames Valley Police mounted section's future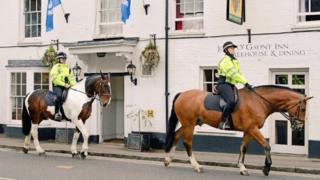 The future of a police force's mounted section cannot be guaranteed, its chief constable has said.
Thames Valley Police must cut costs in the face of a projected funding shortfall of more than £4m in 2018/19.
Chief Constable Francis Habgood said sponsorship could be considered to generate income for the mounted unit.
However, he said action by the force's police and crime commissioner (PCC) to raise the council tax police precept meant no immediate decision was needed.
The force's mounted section is deployed to maintain public order at football matches, demonstrations and other events.
PCC Anthony Stansfeld has told the BBC he did not support scrapping the unit, which includes nine horses.
Mr Habgood said the unit would be collating data around their deployments over the next few months.
He added: "[I] had a really good discussion with them about the budget, their role and the value they add to policing.
"I was really impressed with their passion and the work they had done to present a case to me.
"I know that the mounted section has a wide following, both on social media and when the officers and horses are out and about. I know that they are grateful for that support, as am I."
He said while he had made "no promises" about its future "as with the uncertainty about future budgets that would be reckless" he was "working with the team to ensure that any decision is made using the best evidence around their contribution to policing".
The chief constable is due to meet with the unit again in October to review their findings.