Oxford University sorry for International Women's Day cleaner gaffe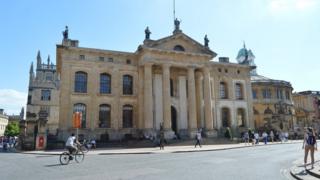 Oxford University has apologised after a female cleaner was asked to remove graffiti saying "Happy International Women's Day" on International Women's Day.
Dr Sophie Smith shared a picture of the scene on Twitter, writing: "What an image for #IWD."
The university said: "We are deeply sorry for this and for offence caused."
Dr Smith said she hoped the cleaner, whose face she obscured in her tweet, received "a heartfelt apology".
The graffiti, which appears to have been written in chalk, was left on the steps of the Clarendon Building in Broad Street.
The initial message from Dr Smith, who is an associate professor of political theory, has been retweeted more than 11,000 times and had nearly 13,000 likes.
The Clarendon Building dates from the 18th Century and is Grade I listed. Formerly the home of the Oxford University Press, it is now part of the university's Bodleian Library.