'No evidence' linking murder accused to knives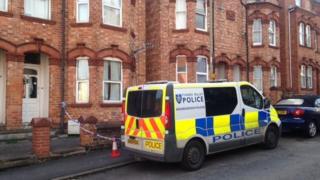 There is "no evidence" linking a man accused of two murders with knives used against two men found dead in a flat, a court has heard.
Mark Pawley, 25, and Adrian Fannon, 39, were found with stab wounds at the home in Newland Road in Banbury at about 18:45 BST on 1 October.
Raymond Morgan, 53, lived in the flat and denies murdering both men.
Defence barrister Tracy Ayling QC told Oxford Crown Court there was no proof Mr Morgan had held the knives used.
She told the jury they "cannot rule out" that "Mr Fannon and Mr Pawley had a fight" either.
The prosecution claims the three men were dependent on drugs and Mr Morgan attacked the others over a deal before going to a police station.
It said Mr Morgan then provided three different accounts of what happened.
The trial continues.