Didcot's Narnia and Middle Earth sign-changer found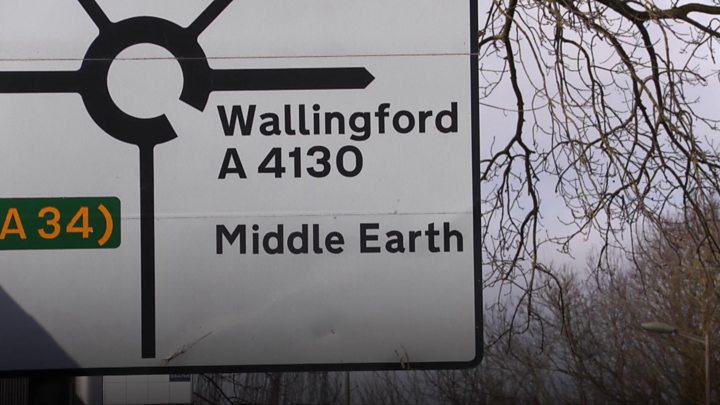 A prankster who added Narnia, Gotham City, and Neverland to road signs in Didcot said he had wanted to change perceptions of the Oxfordshire town.
The roundabout signs in Didcot - described as England's most normal town - also direct drivers to Middle Earth and Emerald City.
The fantasy locations were recently added to five signs along the A4130.
Oxfordshire County Council said it was prioritising fixing potholes over removing the fictional place names.
Speaking to BBC News on condition of anonymity, the man who added the place names said he was reacting to Didcot's "most normal town" label.
He said: "To me there's nowhere that's normal, there's no such thing, but I thought I'd have a go at changing peoples' perceptions of Didcot."
He added he had been making "creative interventions" all over the country for about 20 years under various pseudonyms.
Other place names he said he considered adding were Bikini Bottom, from cartoon Spongebob Squarepants, and the Hundred Acre Wood from Winnie the Pooh.
The county council said however, that while the additions were "on the surface amusing", they were "vandalism" and could distract drivers.
But Jackie Billington, mayor of Didcot, said: "If you speak to the majority of people in Didcot they're of the same opinion, it's put Didcot on the map again.
"At the end of the day potholes are more important. I'm pleased to hear the council say that. Hopefully they'll be up for a couple of weeks."
Local resident Charlotte Westgate said she saw a hooded man adding "Gotham City" to a sign on Friday afternoon.
The quality of the japester's handiwork has subsequently impressed onlookers.
Mark Hunter said on the BBC Facebook page: "Give whoever did this work a Signwriting Art Grant & a medal for ingenuity... First class fun work & fine thinking."
Signet Sign Limited was "very impressed with how well finished it looks, aligned correctly... using the right material or at least a VERY close match".
"You really have to search for the additions," the signage company tweeted.
Ms Billington said: "The font, size, everything's perfect. They're just brilliant. They look better in real life."
A county council spokesman said: "While we appreciate this person's activities have brought a smile to many, roadsides are dangerous places.
"Our road crews carry out risk assessments, are thoroughly trained and experienced, and have an understanding of the dangers of working alongside them."