Oxfordshire millionaire landowner loses estate access case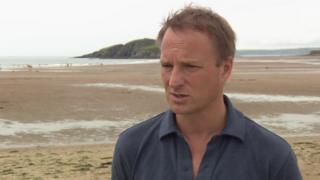 A millionaire landowner has lost a court battle to keep using a private road to access his 4,000-acre estate.
Nicholas Johnston, of the Great Tew Estate in Oxfordshire, said a road through a neighbouring industrial estate was a right of way.
But the High Court backed the industrial estate's bid to ban vehicles using it to access Great Tew.
Judge Paul Matthews said Mr Johnston had been "making things up as he went along" in the case.
The landowner was giving evidence last year at the High Court in Bristol in a dispute over his right to use the road through the Enstone industrial estate to his Oxfordshire estate, at the heart of which is the luxury Soho Farmhouse hotel and members club.
Great Tew has also been the site of the annual Cornbury music festival since 2004.
A case to prevent the right of way was brought by Enstone's owner Leven Holdings, after what it said had been an increase in vehicles using the road to access Great Tew.
The case had rumbled on for several years between solicitors on both sides before Leven decided to seek a court order preventing its use.
The court heard that Mr Johnston wrote to Leven's solicitor in 2015 saying that Great Tew had "rights of way through the industrial estate at all times and for all purposes since my family were first involved her in the early 1950s".
But Judge Matthews backed Leven, saying that Mr Johnston had been unable to support his claim in court.
In his judgement in February, the judge said: "He [Mr Johnston] said that his errors did not show a casual attitude towards the truth. I disagree.
"Nicholas Johnston said whatever he thought was most likely to advance his case, without regard to the truth.
"Even in the witness box it was plain that he was making things up as he went along."
The judge continued that Mr Johnston's evidence was "belligerent and blustering by turns" and added that he "formed a negative view of Nicholas Johnston's willingness to give reliable evidence".
Mr Johnston, who also owns the 750-acre Bantham estate in south Devon, and Leven Holdings both declined to comment.