Five things in Oxfordshire
Here are five stories from Oxfordshire that people have been clicking on this week.
1) Fish tank fumes leave 10 in hospital
Ten people were taken to hospital after inhaling chemicals released from a fish tank in Steventon.
The "potentially toxic" fumes were emitted from coral being cleared from an aquarium at a house on Hanney Road on Monday evening.
About 50 emergency services personnel attended, including a hazardous area response team and three ambulances.
2) Southern Health fined £2m over deaths
An NHS trust that admitted failing two patients who died in its care, one in a bath, has been fined £2m.
Connor Sparrowhawk, 18, drowned in Oxford in 2013. Teresa Colvin, 45, died in Hampshire in 2012.
Passing sentence at Oxford Crown Court, Mr Justice Stuart-Smith said each death was an "unnecessary human tragedy".
3) Inside the British Quidditch Cup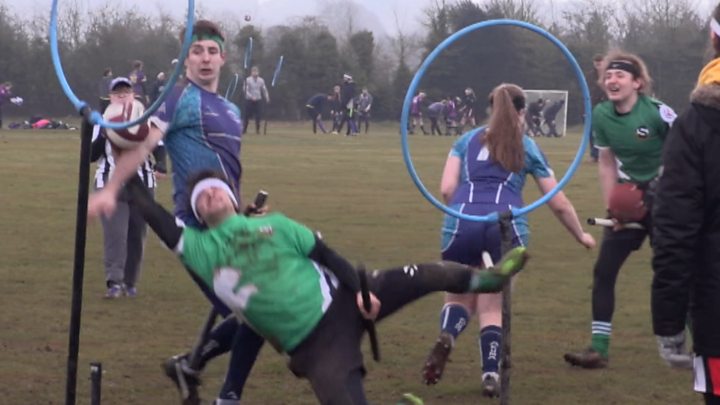 The finest seekers, chasers and beaters have taken part in the Harry Potter-inspired British Quidditch Cup.
Each player must hold a broom between their legs while competing in the sport, which also draws on rugby and dodgeball.
Last year's winners Velociraptors retained their title by beating Warwick 70-30 in Oxford on Sunday after catching the snitch to end the game.
4) Stab attack Oxford student's appeal refused
An Oxford University student who was spared jail for stabbing her boyfriend has been denied permission to appeal against her sentence.
However, Lavinia Woodward, 24, can still apply to have her case heard by a full court of two or three judges.
She pleaded guilty to unlawful wounding at Christ Church college while drunk.
Judge Ian Pringle QC suspended her 10-month jail sentence and at an earlier hearing said he believed immediate custody would damage her career.
5) The King's Speech producer speaks of Oscar 'mad panic'
A producer of hit film The King's Speech has thanked rail staff after they found his Oscar on a train.
Gareth Ellis-Unwin was in a "mad panic" after he got off at Didcot Parkway without the briefcase containing his Best Picture award.
The Metro reported he phoned GWR who sent a team on to the train at Oxford to retrieve the statuette.