University of Oxford 'sexist' alumni invite criticised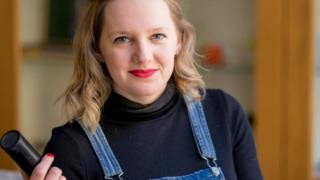 An Oxford University department which sent out invitations encouraging alumni to bring "partners and wives" has been accused of sexism.
Former Department of Materials student Dr Anna Ploszajski received the reunion invite and tweeted it using the widespread #everydaysexism hashtag.
She wrote: "In which universe is it acceptable to say 'partners and wives are very welcome' on an invitation?"
A spokesperson said the university was "committed to gender equality".
The departmental invite sparked criticism on Twitter following the tweet from Dr Ploszajski, who is an award-winning materials scientist and engineer.
Former Great British Bake Off contestant Andrew Smyth was among those who voiced criticism, while Oxford university PhD student Sally Le Page gave some pointers on the use of Latin.
A University of Oxford spokesperson said it was "looking into the matter but it is absolutely committed to gender equality, including the advancement of women in science."