Middleton Cheney teacher banned for online pupil photos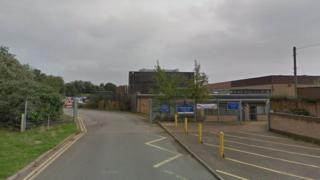 A teacher has been banned from working in schools in England indefinitely for uploading photos of pupils to the internet without permission.
Steven Birkett, 47, admitted he put the pictures on a Russian website known to be frequented by paedophiles, the Teaching Regulation Agency (TRA) said.
He was working at Chenderit School, Middleton Cheney, Oxfordshire, when he put them online between 2007 and 2017.
The pictures were not sexual or indecent, the TRA said.
The decision to ban Mr Birkett from teaching was taken by Alen Meyrick on behalf of the Secretary of State for Education Damian Hinds MP.
A TRA panel had recommended a ban, after finding his actions "may bring the profession into disrepute".
It said he had not provided "adequate explanation for his behaviour" or acknowledged its possible effect on the children.
'Legitimate' website
Chenderit School was alerted on 2 November 2016 by Northamptonshire Police, which had begun an investigation into Mr Birkett prompted by pictures he had posted on the Russian website.
Although it was a "legitimate" website it was "known to be frequented by paedophiles", said the TRA.
The police investigation ended with no further action taken and the school started its own disciplinary process, but Mr Birkett resigned before it concluded.
The TRA's report said he posted photographs of two pupils - which had been taken from Facebook - for at least 10 days, having set up an account using an email address containing another pupil's name.
Mr Birkett had worked at Chenderit School since 2001 and was head of the history department when he resigned in May 2017.
He will not be able to apply for the ban to be lifted in future, the TRA said.