JRR Tolkien artwork on display for first time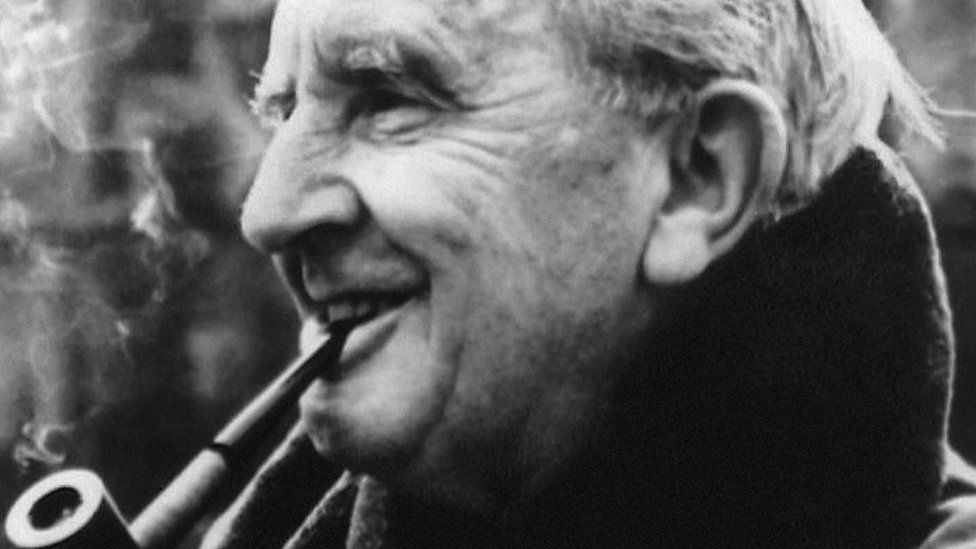 Rare artworks by JRR Tolkien which have never been displayed before are included in a major new exhibition on the Lord of the Rings author's life.
"Tolkien: Maker of Middle-earth" at the Bodleian Libraries' Weston Library in Oxford brings together an array of items from the UK, the US and France.
Many of them have not been in the city since Tolkien's death in 1973.
The library said it is a "once-in-a-generation opportunity" to see so many Tolkien-related materials together.
Three unseen Tolkien artworks and numerous personal effects are on show.
There are also numerous manuscripts, maps and letters from the Bodleian Library's Tolkien archive, the Tolkien collection from Marquette University in Wisconsin and several private collections.
"This is the first time that any of this material is coming back to the UK and it is so exciting to have it coming back to Oxford where Tolkien wrote the material and drew the artwork," said Catherine McIlwaine, the Bodleian's Tolkien Archivist who has curated the exhibition.
"This material is unknown to Tolkien fans so it's going to be marvellous."
Personal effects - such as Tolkien's briefcase, the colour pencils he used to create the artwork for Lord of the Rings and boxes of poster paints that he used for water colours in The Hobbit - have been lent to the Bodleian by his family.
Tolkien's tobacco pipes are also included.
"He always smoked when he was writing, drawing and painting. He said that it helped him to concentrate - he couldn't really write without it," Ms McIlwaine said.
"[His pipes] will be inside cases but I was able to handle them and you can still smell the tobacco that Tolkien used which is really lovely.
"I think his personal objects will really speak to visitors."
There are previously unseen letters sent to Tolkien from famous fans such as poet WH Auden, novelists Iris Murdoch and Terry Pratchett and singer-songwriter Joni Mitchell.
"This is a very exciting part of the exhibition," Ms McIlwaine said.
"These are letters that people haven't seen before and haven't been published and I think it's going to be very surprising to visitors to see the range of people who loved Tolkien's work, and loved it so much that they wrote to him."
The exhibition runs from 1 June to 28 October.