Blackbird Leys murder trial: Man 'dragged into alley by gang'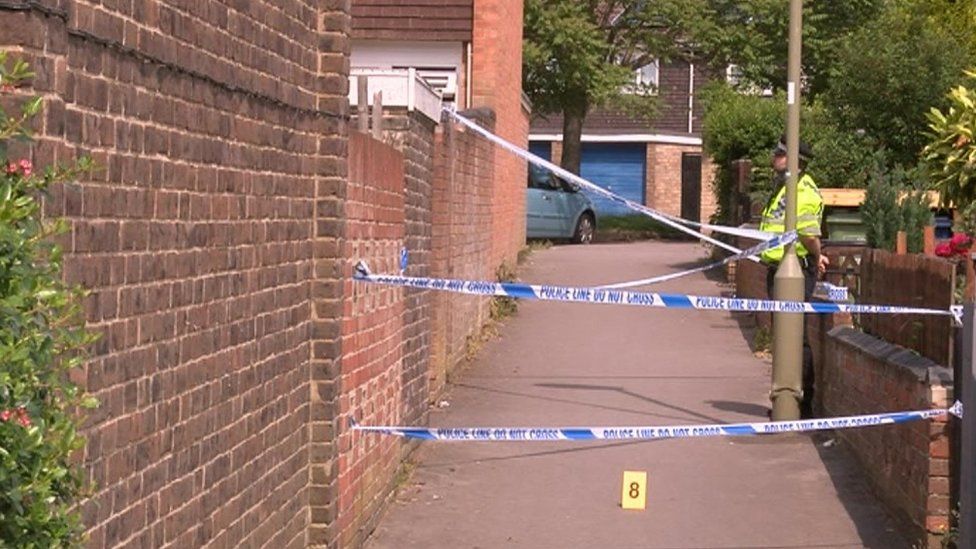 An eyewitness in a murder trial has described seeing a man dragged into an alley by about 15 people after being beaten and kicked.
Christopher Lemonius, 27, died after being found injured in Jourdain Road, Blackbird Leys, Oxford, on 1 June.
The witness also told Oxford Crown Court he saw a man with a machete with blood on it "from the top to halfway".
Six men deny murder and four others deny perverting the course of justice.
The witness's voice was altered to protect his anonymity and he spoke from a remote location.
He said a man and a woman in their 40s or 50s were "standing watching" the gang kick and punch the victim.
He said he was looking out of a window and saw the men going through the back door of a property, with the victim "hanging on to the door" as he was pulled into the garden and dragged into the alley and beaten with poles.
Those charged with murder:
Yousef Koudoua, 27, of Balfour Road
Yasine Lamzini, 19, of Jourdain Road
Rashaun Stoute, 23, of Church Cowley Road
Connor Woodward, 24, of Haldene Road
Otman Lamzini, 24, of Jourdain Road
Carlos Spencer, 26, of Wynbush Road
Under cross-examination, he was asked if he could accurately remember what happened with one barrister mentioning that "visibility was poor".
He replied: "It was, but you could see a lot."
Related Internet Links
The BBC is not responsible for the content of external sites.