Aureus School head teacher defends packed lunch ban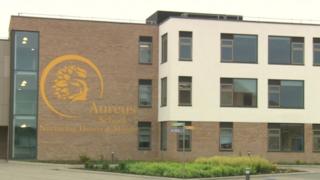 A head teacher has defended banning packed lunches after being targeted by internet trolls.
Hannah Wilson, head of the Aureus School in Didcot, Oxfordshire, said she would not "give in to shouty voices" calling for her to resign.
The school gained national press attention after a parent complained about the food policy.
In a blog Ms Wilson said she had "received a lot of adversity, both professionally and personally".
'Draconian'
As part of Aureus School's food policy pupils are not allowed to bring packed lunches and must get food from the school canteen.
The school's website lists a "family dining experience" as being one of the ways it holistically educates its pupils.
It states: "Our community lunch time ensures that everyone eats a healthy, nutritious meal."
It also states that the meals are nut-free, and all meat is halal.
The rules have been branded "draconian" by an anonymous parent who has a daughter at the school.
'Personal attacks'
Head teacher Hannah Wilson said that since the story attracted the attention of the national media, she has blocked "at least 50 Twitter trolls who have been hateful to me online".
In her blog, The Hopeful Headteacher, Hannah Wilson said her school's "values of courage, resilience and integrity have been tested".
"Most of this has been directed at me as the figurehead of the school," she wrote.
She said her "eyes have bled" reading the "personal attacks".
But she said she had not "lashed back at the vilification of my character, at the body shaming, nor the hashtag to have me sacked".