Oxford University Hillary Clinton lecture hit by glitch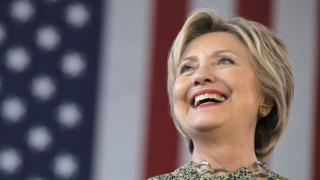 An IT glitch meant tickets for a lecture by Hillary Clinton at Oxford University "sold out" before they were supposed to be made available.
Users logging on before registration for the public event opened at 09:00 BST were met with a message telling them it was already fully booked.
The university said the website "went live earlier than expected".
Former US presidential hopeful Ms Clinton will deliver the annual Romanes Lecture on 25 June.
The university posted on Twitter announced the start of registration, but was met with a string of frustrated responses.
Dr Sophie Smith said she had tried to get tickets "at 8.59" but "a message popped up to say it was fully booked".
While Kate Watkins asked if the lecture would be livestreamed "to ease the disappointment".
The university apologised and said the automated registration page "went live earlier than expected, so many people were able to get tickets before the intended opening time".
A spokesman said the university was investigating and hoped "to make changes so it does not happen again".
"We are very sorry to those who missed out."
The university said the lecture, which was first given in 1891, will be live-streamed from the Sheldonian Theatre.