Blackbird Leys murder trial: Victim 'told police he was dying'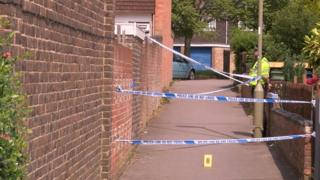 A man found by police officers bleeding in an alleyway repeatedly told them he thought he was dying, a murder trial has heard.
Christopher Lemonius, 27, died after being found in Jourdain Road, Blackbird Leys, Oxford, on 1 June last year.
Giving evidence at Oxford Crown Court, PC David Stagg said Mr Lemonius was moving and struggling for breath until he lost consciousness.
Six men deny murder and four others deny perverting the course of justice.
PC Stagg told the court that he tried to persuade Mr Lemonius to keep still before the ambulance arrived.
He said the victim, whose hair, face and body were covered in blood, kept telling him that he thought he was going to die.
Those charged with murder:
Yousef Koudoua, 27, of Balfour Road
Yasine Lamzini, 19, of Jourdain Road
Rashaun Stoute, 23, of Church Cowley Road
Connor Woodward, 24, of Haldene Road
Otman Lamzini, 24, of Jourdain Road
Carlos Spencer, 26, of Wynbush Road
Footage taken from a body camera worn by another police officer showed Mr Lemonius's body being carried out of the alley on a stretcher.
The video also featured Allal and Yamina Lamzini, who are charged with doing acts tended or intended to pervert the course of justice.
It showed Mrs Lamzini telling officers: "It's dark, we can't see nothing."
The trial continues.