Travellers pitch up by Thames Valley Police Kidlington HQ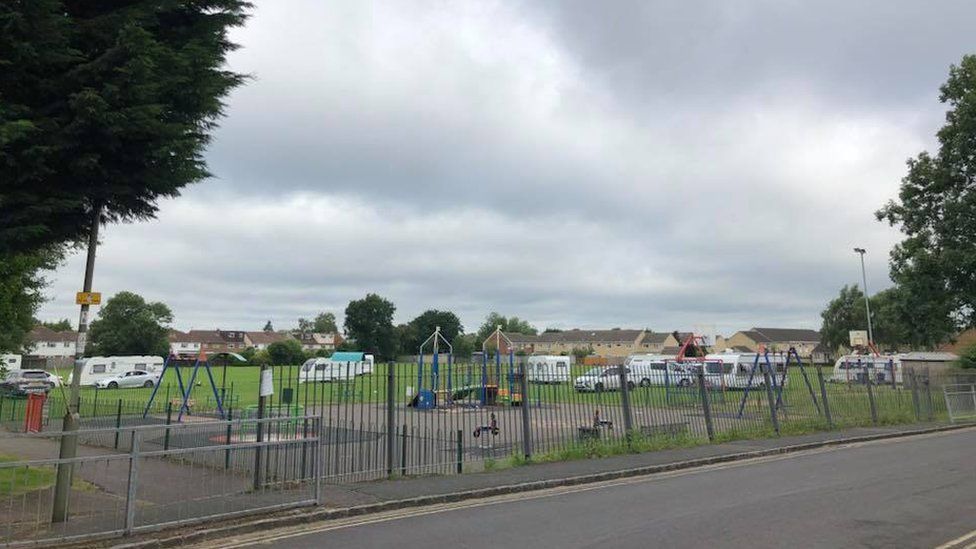 A group of "cheeky" travellers has pitched up close to a police headquarters.
About 10 caravans arrived at Ron Groves Park, near Thames Valley Police's offices in Kidlington, Oxfordshire, on Tuesday evening.
Local councillor Maurice Billington said the travellers assured him they would leave the fields on Thursday.
A police spokesman said they would only become involved if the civil process had been "exhausted".
Mr Billington said he visited the travellers on Tuesday evening after receiving phone calls from concerned local residents.
"They've been driving cars and motorbikes around the park where the local football team play," he added.
"I've been told they're also taking water from peoples' outside taps."
Some local residents expressed their dismay on social media, claiming the travellers had broken into the park.
@TVP_Kidlington We have some united guests that have broken through the gates into Ron Groves Park. Please move them on as soon as possible, it's close to a children's play area.

— Meg Simpson (@MeggyMoo2013) June 19, 2018
"They're cheeky pitching up by the police," Mr Billington said.
"Travellers will park anywhere, they would even park in the police car park if they wanted."
Related Internet Links
The BBC is not responsible for the content of external sites.