Oxford needs £150m or transport network will "seize up"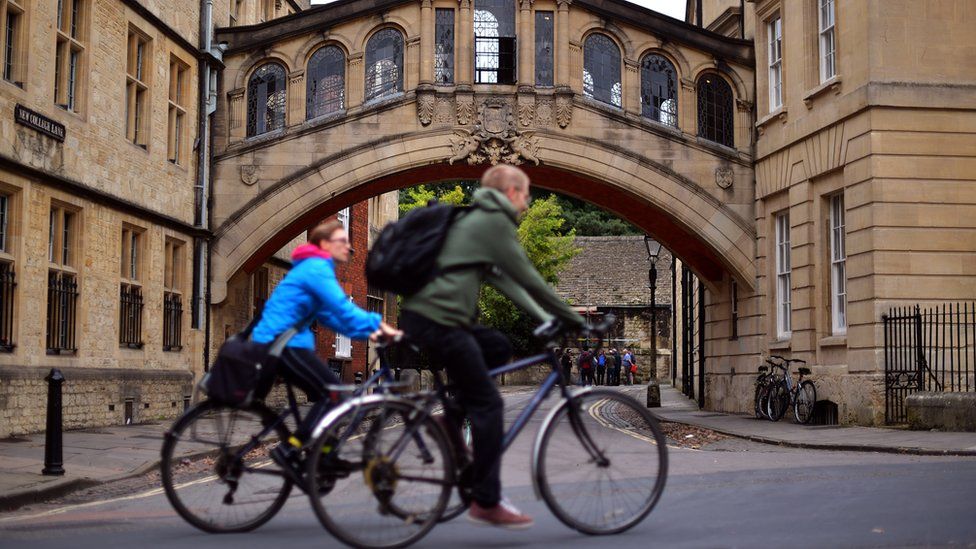 Oxford's roads are close to "tipping point" and need £150m of investment to tackle traffic problems, a report has said.
The National Infrastructure Commission (NIC) said traffic needs to be reduced and cycling rates need to increase.
It also made recommendations for Cambridge and Milton Keynes.
"Getting more people to cycle is the quickest, cheapest and least disruptive way to relieve pressure on the roads," said report author Andrew Gilligan.
The NIC, which advises the government on major long-term infrastructure challenges, said congestion in Oxford and Cambridge risks "soon becoming unmanageable".
Despite cyclists accounting for 25% of all commuter journeys in Oxford and 43% in Cambridge, cycling is not taken seriously enough, it said.
Segregated cycle lanes and cycle-safe junctions on main roads are among the NIC recommendations for the two cities.
It also suggests five segregated or low-traffic routes in and around Oxford, with several continuing beyond the city to Eynsham, Kidlington and Wheatley.
Initiatives to reduce the number of cars in the city centres, such as restricting residential parking and giving some city centre parking to bicycles, are highlighted.
"Without transport improvements, Oxford and Cambridge will seize up but none of the usual improvements work," said Mr Gilligan.
"New roadbuilding within these cities is impossible - there isn't even room in the centres of these cities for more buses."
Oxford City Council said it welcomed the report.
"Our city streets are creaking at the seams, and our air quality is poor," said councillor Louise Upton, board member for Healthy Oxford.
"We are keen to pursue traffic reduction measures and we will consider the various options arising out of our ongoing work with the county council."
The report said cycling and sustainable transport commissioners would need to be appointed in the three locations to ensure the changes were made.
Related Internet Links
The BBC is not responsible for the content of external sites.