Funeral for no-relatives RAF veteran Raymond Burrows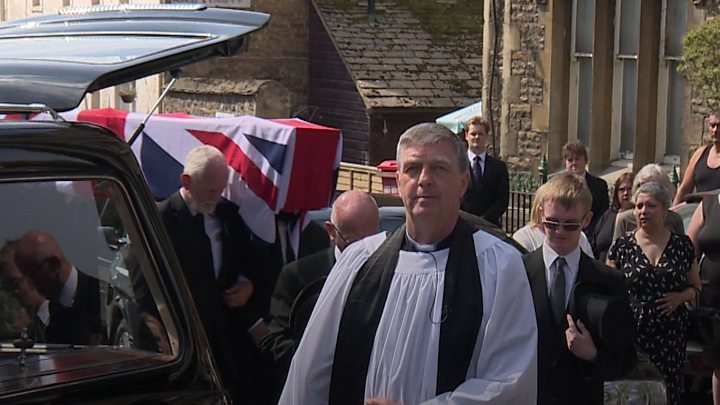 An RAF veteran from Oxfordshire who had no known family or friends has been given a military send off.
The funeral of Raymond Burrows, 89, was delayed for more than six months as authorities searched for relatives.
The funeral directors covered the costs of Thursday's service in Faringdon, which was attended by more than 150 people.
His coffin was draped in a union jack and RAF personnel formed a guard of honour as he was taken to the church.
Mr Burrows died at home in Faringdon on 3 February.
Environmental health officers had originally drawn up plans to bury him in Wallingford, but R & H Barker funeral directors switched the location to Faringdon as he had more connections with the South Oxfordshire market town.
They were unable to find any photographs of him to display at the service, however.
My Carer staff who looked after Mr Burrows attended the service, with one saying they had "become like family".
Another said: "We're not just carers, we're his friends."
Servicemen and women also attended the service, along with members of the Royal British Legion Riders; motorcycle enthusiasts who are linked to the British Legion.
Mr Burrows was born in Burnley on 2 September 1928 and served as an aircraft handler and junior engineer between 3 September 1946 and 2 September 1948, The Oxford Times reported.