No trains at Oxford Station as works begin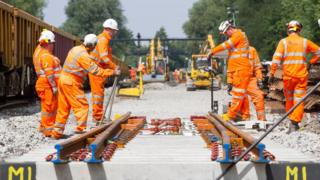 Trains will stop running in or out of Oxford Station as maintenance work begins.
The rail works will be "noisy and at unsociable times" as engineers replace track, signalling and cables, according to Oxford City Council.
Network Rail said the work has been "carefully planned" to minimise disruption to passengers.
The improvements will allow faster travel and a new half-hourly London Marylebone to Oxford service, it added.
The railway operator has written to thousands of residents living alongside the tracks to alert them to the works and supplied contact numbers in case of complaint.
During the rail works programme the city's council officers said they will be monitoring noise and checking their environmental health conditions are being met.
Services are affected between 7 and 23 July.
Great Western Railway said it would operate replacement buses between Oxford and Didcot Parkway, and a limited fast service between 16 and 20 July.