Blackbird Leys murder trial: Accused 'was attacked'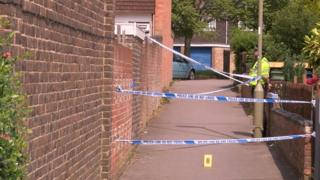 A man accused of being part of a gang that murdered a 27-year-old said they were attacked by masked men wielding machetes.
Christopher Lemonius died after being found in Jourdain Road, Blackbird Leys, Oxford, on 1 June last year.
Six men deny murder and four others deny perverting the course of justice.
Giving evidence at Oxford Crown Court, one of the defendants said on the evening Mr Lemonius died his friends were "chilled" and in good spirits.
Otman Lamzini, who denies murder, said the group were in a field drinking and celebrating the completion of a music project.
"Four men with their faces covered approached us with machetes and other weapons and they tried to attack us" he said.
He said one of the masked men jumped off a bike and swung at Rashaun Stout, who is also accused of murder.
"They crept up on us. No-one was expecting anything," he added.
Mr Lamzini said he picked up a rounders bat and then later a golf club in an attempt to defend himself.
An eyewitness previously described seeing a man dragged into an alley by about 15 people after being beaten and kicked.
The witness also told the jury he saw a man with a machete with blood on it "from the top to halfway".
The trial continues.
Those charged with murder:
Yousef Koudoua, 27, of Balfour Road
Yasine Lamzini, 19, of Jourdain Road
Rashaun Stoute, 23, of Church Cowley Road
Connor Woodward, 24, of Haldene Road
Otman Lamzini, 24, of Jourdain Road
Carlos Spencer, 26, of Wynbush Road