Policeman's 'inappropriate' contact was gross misconduct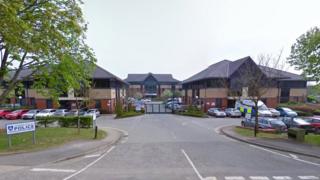 A former police officer's "inappropriate" contact with a victim of a domestic incident amounted to gross misconduct, a hearing was told.
PC Andrew Green, of Thames Valley Police, sent emails and text messages to the woman over a two-month period.
A special case misconduct hearing found Green had breached the force's Standards of Professional Behaviour.
Green resigned from Thames Valley Police on Sunday 8 July, the day before the hearing.
The hearing was told that Green - who was based in the Oxfordshire Local Policing Area - exchanged emails and texts with the woman between 18 November 2017 and 31 January 2018.
Nature of messages
It concluded his actions amounted to "gross misconduct and breached the Standards of Professional Behaviour in respect of discreditable conduct and authority, respect and courtesy".
The nature of the messages was not disclosed to the BBC.
Deputy Chief Constable John Campbell said: "The allegations that were subject to the hearing were sufficiently serious to the extent they amounted to dismissal, and the former officer would have been dismissed had he still be serving.
"The force takes its responsibility towards protecting the communities seriously, and treats all victims of domestic abuse with utmost sensitivity. There is no place in Thames Valley Police for an officer to behave in this way."
He added: "Thames Valley Police will also submit PC Green's details to be placed on the College of Policing's Barred List, preventing him from working as a police officer in future."