Wallingford farmers plough fields to help stop fire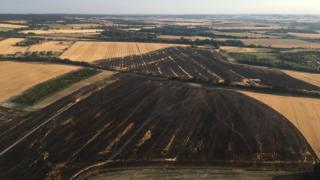 Farmers helped firefighters tackle a large field blaze in Oxfordshire by ploughing fire breaks in crops to stop it spreading to a nearby pig farm.
Crews from three counties were called to Ewelme Downe Farm, Ewelme, Wallingford, on Saturday evening.
Surrounding roads were closed to allow emergency vehicles and tractors space to work while the police helicopter helped assess where crews were needed.
The fire service said the incident as "very challenging".
Oxfordshire fire service group manager said crews had been "aided greatly by the local farmers, who upon identifying the presence of fire immediately commenced creating fire breaks around the outside of the fields by ploughing through the crop".
"Fortunately, this helped us in preventing the fire spreading to a nearby pig farm, as well as other buildings," he said.
More than 800 sq m of crops have been destroyed after the fire broke out shortly before 17:30 BST. The cause is believed to have been accidental.