Great Western Railway cancels Oxford and London hourly train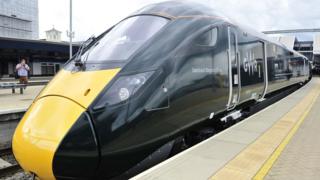 Commuters have been left "irate" and frustrated after Great Western Railway (GWR) cancelled the only train on its hourly service.
GWR resumed a limited service of one train per hour between Oxford and London Paddington earlier, but the 07:40 BST train was cancelled.
Passengers sent tweets which included: "Are you even trying any more?"
"The train was cancelled due to stock displacement, following crew issues on Sunday," said a GWR spokesman.
Commuters vented their frustration on social media.
GWR said a bus replacement service to Didcot was provided for passengers.
A spokesman apologised and said: "Customers were provided with a strengthened replacement bus service while engineering works continues, prior to the departure of the following train service at 08:14."
Maintenance work has been taking place at Oxford station since 29 June.
Engineers are currently replacing track, signalling and cables as part of maintenance works which will affect services between 7 and 23 July.
Once complete it will allow faster travel as well as a new half-hourly London Marylebone to Oxford service.
Great Western Railway said it would operate replacement buses between Oxford and Didcot Parkway, and a limited fast service between 16 and 20 July.