Headington care home residents stranded after lift breaks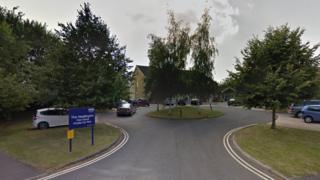 Disabled care home residents in Oxford have been stranded upstairs for nearly three weeks after a lift broke down.
John Evans, whose wife is cared for on the first floor of The Headington Care Home, said the situation is a breach of her human rights.
There are seven residents that live on the first floor with four unable to use the stairs.
Staff are working with a specialist contractor to repair the lift, which broke down 18 days ago.
"The residents in the unit cannot be taken out to access the garden, attend the activities in the home, go on trips or attend medical appointments," Mr Evans said.
"The company has made no interim alternative arrangements to allow the residents out of the home - in effect they are being detained.
"This is a breach of their human rights and is not humane."
'At a loss'
The repair was delayed after engineers ordered a new pump from Italy that turned out to be incompatible and had to be reordered.
Installation of the new part is scheduled for Friday.
A spokesman for Headington Care Home said: "We are at a loss to know what more we should or could be doing to remedy a situation that is not of our making and in which we are reliant on lift and stair lift specialists."
Staff have provided air conditioning units, increased activities for residents and held church services on the first floor.
A stair lift is also scheduled to be installed at the care home this week.
An Oxfordshire County Council spokesman said it is monitoring the situation.