Royal Logistic Corps receives freedom of Bicester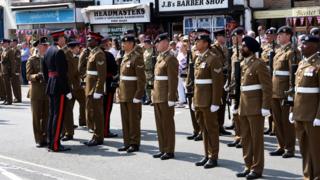 Soldiers of the Royal Logistic Corps (RLC) have received the freedom of an Oxfordshire town.
The Freedom of Entry of Bicester was given to 1 Regiment RLC, which has been based at St David's Barracks since 2014 after moving from Germany.
Following a church service, troops paraded through the town to Garth Park with bayonets drawn, led by the RLC Corps Band.
Mayor Sean Gaul said it showed their "strong relationship" with Bicester.
He added: "I feel very privileged and very honoured to be taking a leading role in what can only be described as a momentous occasion for our town."
Earlier in the year town councillors unanimously agreed to give the honour to the regiment.