Family judge warns doctors over amateur photos of marks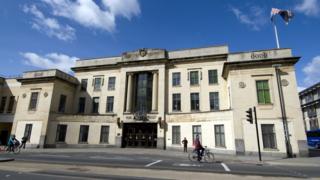 Doctors should be cautious when examining amateur photographs of suspicious marks on children, a family court judge has warned.
Judge Joanna Vincent said mobile phone pictures can "misrepresent" injuries after hearing a case in Oxford.
She said social workers intervened because doctors thought pictures showed bruises on a two-month-old baby's face.
But the judge said no clinician who had examined the girl in person had identified a bruise.
Oxfordshire County Council bosses withdrew their request for care or supervision orders for the girl after hearing the evidence.
'Amateur level'
Judge Vincent said there were "lessons to be learned" from the case, which came about after the girl's mother took pictures of marks on her daughter's face.
A GP and consultant paediatrician thought the photographed marks were bruises, and referred the matter to social services.
But Judge Vincent said the only "means of diagnosis" was the mobile phone pictures, and from looking at the evidence she could not have concluded the marks were bruises.
"It is important to be aware that photographic imagery taken at amateur level may misrepresent what is present in fact," she said in a written ruling.
"Other factors which affect the reliability of photographic imagery include the light exposure and device used."
She said such pictures should be "compared to any contemporaneous account" of whether marks had been seen on a child "by a medical professional or carer".
A spokesman for the council said it had "undertook its normal procedures where there are concerns, backed up by medical opinion, that a child had suffered a non-accidental injury".
He added: "We implemented a temporary care order which meant that mother and child were not separated and, during this arrangement, further fact finding was undertaken which led us to the view that the child was not at risk."