Blenheim Palace's lost garden revealed by heatwave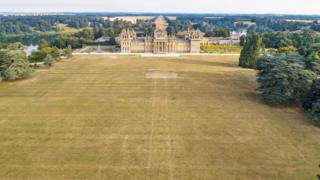 The heatwave has exposed the remains of an 18th Century "military garden" at Blenheim Palace, aerial photographs have revealed.
The dry weather has uncovered parch marks in the shape of a garden that was dismantled by renowned landscape gardener Lancelot "Capability" Brown.
Head of gardens Hilary Wood said they provided "fascinating new information" about the lost formal gardens.
The palace in Woodstock is the birthplace of Sir Winston Churchill.
The garden was laid out in 1705 by royal gardener Henry Wise across 70 acres (28 hectares).
Its rectangular parterre - which can be seen in the parch marks - was the full width of the palace, and was surrounded by a high stone wall with bastions.
There was also a hexagonal group of trees, divided by a gravel walk.
But when "Capability" Brown transformed the estate in the 1760s into its current layout - in the process adding a lake to the grounds - the garden was removed.
Ms Wood said: "During the heatwave of 1976 there simply wasn't the drone technology available to easily capture aerial images of the grounds and gardens.
"Today we can capture these incredibly detailed images and combine them with historical maps and drawings to provide us with fascinating new information which offers tantalising glimpses both into Blenheim's recent and ancient history."
Blenheim Palace was built to celebrate Britain's victory over the French in the War of the Spanish Succession and completed in 1733.
It is the residence of the Duke of Marlborough and was designated as a Unesco World Heritage Site in 1987.