Oxford public toilets could become holiday apartments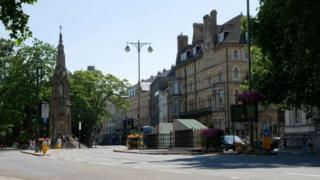 Disused Victorian toilets built under a busy main road in central Oxford could be turned into holiday apartments.
The men's loos on St Giles opened in the late 19th Century but were shut by Oxford City Council in 2008.
Owner Harries-Jones Limited wants to rent them to tourists and has submitted plans to the council.
Architect Edward Gillibrand said clean air would be supplied to the rooms as "at rush hour it can be a little smelly".
The proposals include two units which could hold two people each, according to the Local Democracy Reporting Service.
Glazed canopies would be built over the top of the toilets and the railings at the entrance would be restored.
Harries-Jones Limited, which runs the Galaxie Hotel on Banbury Road, said bookings would be taken for up to a week.
The revamp would provide a "unique opportunity" to visitors to the city and "add quality and choice", it said.
Mr Gillibrand, from designers Original Field of Architecture, said: "We feel it will be an exciting space to make it possible to see a different part of Oxford that has not been visible for some years."
"It had been very challenging... you're surrounded on every side by an Oxford landmark. The challenge is to be innovative and to be respectful of everything."
He said a plant room would resolve the problem of getting clean air to the rooms.
Oxford Preservation Trust said it was "quite apprehensive" about the proposed glass canopies, though Oxford Civic Society has given "cautious approval".
The toilets are situated opposite Martyrs' Memorial and have views of the Randolph Hotel and Ashmolean Museum.
The proposal will be decided by 24 September.