Philip Pullman loses His Dark Materials ballpoint pen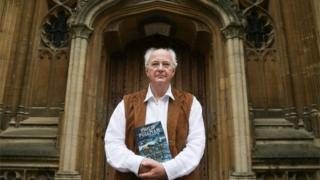 Author Philip Pullman has misplaced a beloved pen with which he handwrote the acclaimed His Dark Materials trilogy.
The Oxford-based writer has turned to Twitter in the hope that his pen case, a Montblanc ballpoint pen and a pencil can be tracked down.
"I'm particularly attached to the pen, because I wrote His Dark Materials with it," he tweeted.
The author does not remember when he last had his lost materials.
"If anyone finds it, I'd appreciate a tweet," he added.
His post has been retweeted more than 3,000 times.
Pullman is in the middle of writing a new trilogy of novels set in the world of His Dark Materials.
His last novel, La Belle Sauvage, was released last year.
It came out 17 years after he finished the original books, the first of which was made into a film in 2007, starring Daniel Craig and Nicole Kidman in the roles of Lord Asriel and Mrs Coulter.
A BBC adaptation is currently being filmed, with those roles played by James McAvoy and Ruth Wilson.
You may also like: