'Neo-nazi' couple named baby after Hitler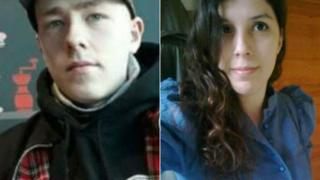 A couple accused of being in a banned British Neo-Nazi group named their baby after Hitler, a court has heard.
Adam Thomas, 22, and Claudia Patatas, 38, from Banbury, gave their child the middle name Adolf in honour of the infamous dictator, prosecutors claim.
Jurors heard the couple were pictured with a convicted racist and "vehement Nazi" as he held a Swastika flag and performed a racist salute over their baby.
Both deny being members of the group.
Barnaby Jameson, prosecuting, told jurors at Birmingham Crown Court that National Action was "so extreme and violent" it was banned in 2016.
'Interest in machetes'
"Given that the child was born almost a year after National Action was banned, you may think the use of the name 'Adolf' - even as a middle name - was of significance," he said.
Photographs of the couple's "close friend" Darren Fletcher, 28, from Wolverhampton, posing with their child were uncovered during investigations into the group, the court heard.
They are on trial alongside Daniel Bogunovic, 27, who is also accused of being a National Action member.
Mr Jameson warned jurors the case dealt with "a world in which any right-thinking person would wish did not exist".
He said the court would hear of "hate crime committed by National Action members and the ruthlessness with which they were prepared to spread terror".
Mr Bogunovic and Mr Thomas had a "particular interest" in owning machetes, he said, and bomb-making instructions were found on Mr Thomas's computer.
'White Jihad'
Mr Jameson said the case was about "a specific type of terror...born out of fanatical and tribal belief in white supremacy".
Describing the terror as a "cult of violent white racial supremacy", Mr Jameson said it regarded groups including black, Jewish, Asian and gay people as "sub-human".
"It is a terror that can be summarised in two words: white Jihad - in other words, a white holy war," he said.
The jury of six men and six women heard Bogunovic was among four men convicted earlier this year of stirring up racial hatred after plastering Aston University campus in Birmingham with National Action stickers.
Jurors were also told of the defendants' associations with "other prominent National Action figures".
Jurors also heard that photos of an "arsenal" of weaponry which the "extremist's extremist" Mikko Vehvilainen had built up were found on Thomas and Patatas' phones.
Thomas also stands accused of a having a terrorist document, namely the Anarchist's Cookbook.
Patatas and Thomas, of Waltham Gardens, Banbury, and Bogunovic, of Crown Hills Rise, Leicester, deny all the charges and the trial, expected to last four weeks, continues.