National Action trial: Dad 'posed in KKK robes with baby'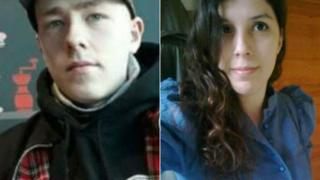 An alleged far-right terrorist who named his child after Hitler posed with the newborn while clad in the white robes of the Ku Klux Klan (KKK), a court heard.
Prosecutors say Adam Thomas, 22, and Claudia Patatas, 38, gave their baby the middle name Adolf in honour of the Nazi leader.
The pair are charged alongside Daniel Bogunovic, 27, with being members of banned neo-Nazi group National Action
All three deny being in the group.
Jurors at Birmingham Crown Court previously heard Ms Patatas and Mr Thomas' child - who was given the middle name Adolf - appeared in a picture alongside "vehement racist" Darren Fletcher.
On the second day of the trial, the court was shown a picture of a man in hooded white robes cradling a baby.
'Britain is ours'
Barnaby Jameson QC, prosecuting, said: "The suggestion is that is Mr Thomas and his child, whose middle name is Adolf."
He said another image from the "Thomas-Patatas family album" showed the defendant, again wearing the signature uniform of the white supremacist US group, brandishing a machete in front of a Confederate flag.
It was shown hanging over a sofa, next to two cushions emblazoned with the Swastika.
Mr Jameson said the couple also had a poster stuck to their fridge reading "Britain is ours - the rest must go".
Jurors were also told Ms Patatas, of Banbury, sent a WhatsApp message to convicted National Action member Fletcher, declaring: "All Jews must be put to death".
Outlining further mobile phone evidence, Mr Jameson read a message apparently sent from Thomas to Patatas in September 2017.
In it, he used racial slurs to to describe black and Asian colleagues, describing one as "half-bred" and one as a "mongrel".
"What I've found is that all non-whites are intolerable but the ones who have lived here most of their lives are even worse," the court heard.
"They have a more thuggery attitude about them as opposed to the sterotypical childish African."
An inspection of the defendants' mobile devices also found Ms Patatas had a photograph of National Action co-founder Benjamin Raymond stored on hers, Mr Jameson said.
Mr Thomas, meanwhile, had an image depicting the "burning cross symbol of the KKK", he said.
The prosecutor also alleged Mr Bogunovic's phone contained an image of a March 2017 press report detailing how National Action was secretly reforming.
Mr Jameson said the group had tried to "shed one skin for another" in order to evade the law, and questioned whether Mr Bogunovic's interest in the relaunch stemmed from his heavy involvement in it.
'Secret relaunch'
Jurors were also told the defendants formed a new group named the TripleK Mafia - a reference to the KKK - after National Action was banned in 2016.
However, it was repeatedly misspelt "TrippleK" on posters by fellow member Joel Wilmore, Mr Jameson said.
The prosecutor then showed jurors an example of the typographical error.
Wilmore, 24, of Bramhall Moor Lane, Stockport, has since admitted terrorist group membership.
Opening the case on Tuesday, Mr Jameson said it detailed a "cult of violent white racial supremacy" which regarded groups including black, Jewish, Asian and gay people as "sub-human".
"It is a terror that can be summarised in two words: white Jihad - in other words, a white holy war," he said.
Ms Patatas and Mr Thomas, both of Waltham Gardens, Banbury, and Bogunovic, of Crowns Hills Rise, Leicester deny being members of a banned group.
Mr Thomas further denies a separate charge of having a copy of terrorist document, The Anarchist Cookbook, which contained bomb-making instructions.
The trial continues.