National Action trial: Accused 'had Anarchist Cookbook'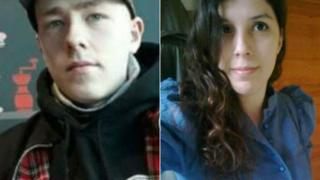 An alleged neo-Nazi terrorist who named his child after Hitler had bomb-making instructions on his computer, a court has heard.
Adam Thomas, 22, allegedly possessed terrorist document The Anarchist Cookbook, which contained instructions on making "viable" explosives.
Mr Thomas, along with his partner Claudia Patatas, 38, and Daniel Bogunovic, 27, is charged with being a member of extreme far-right group National Action (NA).
All three deny being in the group.
Birmingham Crown Court has heard the Oxfordshire couple gave their child the middle name Adolf in honour of the infamous dictator.
It is also alleged Mr Thomas posed in a photo with the baby while wearing Ku Klux Klan robes and that they kept machetes, crossbows and other weaponry at their home.
Sharon Broome, principal forensic investigator for the Government's Forensics Explosives Laboratory, said the "cookbook" contained "credible" and "potentially viable" guidance on making bombs.
'Death to traitors'
In her report, she said it would "enable somebody to identify the material needed and follow a process to make component parts of an improvised explosive device".
"You could actually make a device if you get the component parts by following the instructions," she said.
The "cookbook" was found on a laptop at the couple's home with headings for making plastic explosives, dynamite, pipe-bombs and Molotov Cocktails.
The court also heard more about NA's background.
Professor Matthew Feldman, director of the Centre for Analysis of the Radical Right, said social media accounts associated with the group voiced support for the murder of Labour MP Jo Cox in June 2016.
One said: "Only 649 MPs to go," while the NA's north east group Twitter account posted: "Vote Leave. Don't let this man's sacrifice be in vain. Jo Cox would have filled Yorkshire with more sub-humans."
NA also used the words of Jo Cox's killer Thomas Mair on its website: "Death to traitors - freedom for Britain."
Ms Patatas and Mr Thomas, both of Waltham Gardens, Banbury, and Bogunovic, of Crowns Hills Rise, Leicester, deny being members of a banned group.
Mr Thomas further denies a separate charge of having The Anarchist Cookbook.
The trial continues.